Today I attended a SaaS Virtual Happy Hour meetup organized by Nathan Latka of GetLatka. It was a really fun event. The attendees were SaaS founders and investors. Every few minutes you would be paired with a random person in the group and you will chit-chat for 3-4 minutes.
There were ~70-80 people who were live for ~1 hr event. I met 5 people from different corners of the world. Poland, London, New York City & Germany. Two of them had recently been to India. One even has a dev team in India.
It was curious meeting people from different parts of the world whom I would not normally meet. You could say that 3-4 minutes was a very small time to chat on any thing in detail - but it was good to get to know about the other person.
The session was powered by this SaaS product - https://icebreaker.video . Do check it out.
A remote only world is creating new platforms and formats of interaction. It is also making the world flatter. Since, there are no local meetups now, I can now attend any virtual meetup, webinar happening around the world.
For someone who is building a global SaaS product, this is really a blessing 😀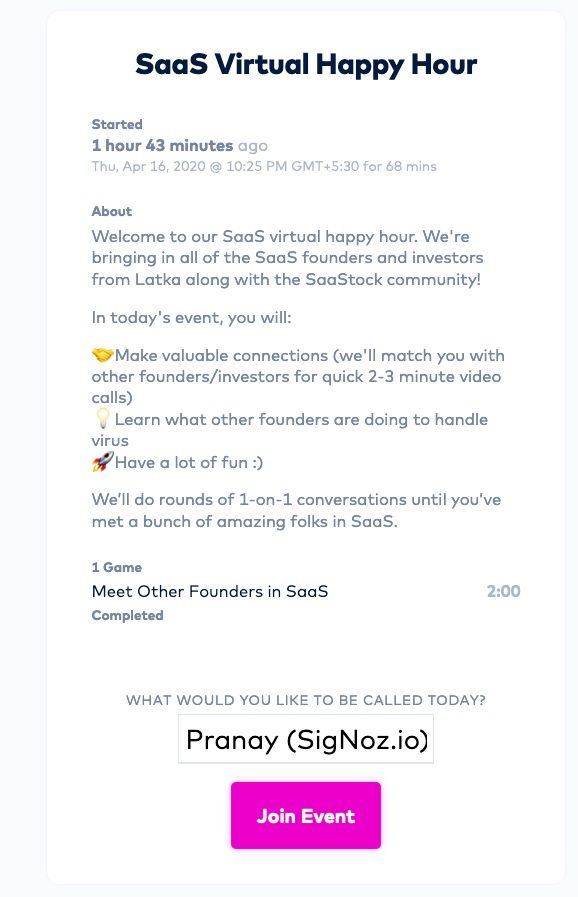 New formats of virtual interaction are emerging with extended lockdowns :)